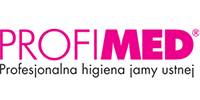 When you need a guide through the world of teeth
Profimed is a specialist in oral hygiene with over 20 years of tradition. We are distributors of such brands as TePe, Swissdent, Marvis, Tebodont, Halter or Emoform.
We cooperate with Polish dentists and receive feedback on what is good and what works among their patients. We approach each client individually, trying to find an individual solution for them. We also try to educate constantly, introducing new products to our offer and presenting existing ones during the biggest dental fairs in Poland and Europe.
Do you need advice? We will be happy to help you.
Opening hours
Monday-Friday: 9:00-21:00
Saturday: 9:00-21:00
Sunday: 10:00-20:00