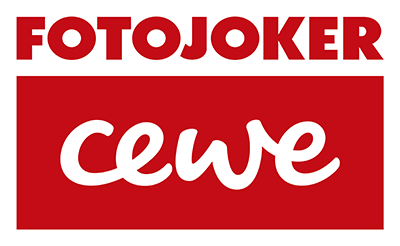 Fotojoker is a nationwide company which for over 20 years has been providing professional photographic services, available in dozens of shops across the country and via the Internet. Every year, we take over 3 million photos for you. Thanks to your growing demands, we have become a leader in the implementation of new technologies used in the photographic services.
In each of our salons you can make or buy:
photographs for documents – compliant with all formal requirements;
instant photos – from any medium (smartphone, CD, memory stick, memory card);
design of your CEWE PHOTO BOOK;
any product from our laboratory offer: CEWE FOTOOBRAZY, CEWE FOTOKARTKI, CEWE FOTOKALENDARZE, photo posters, photo gifts and digital prints.
Fotojoker is also about photographic equipment. You will find a wide range of leading brands, such as: Canon, Nikon, Olympus and Panasonic. Both amateur photographer and professional will find here the right camera or lens for themselves. Our sales staff will be happy to advise you on how to choose accessories and other accessories.
Opening hours
Monday-Friday: 9:00-21:00
Saturday: 9:00-21:00
Sunday: 10:00-20:00