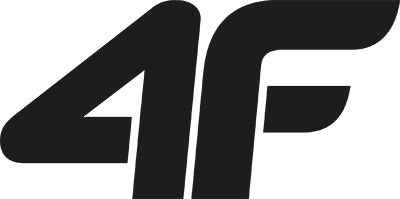 4F is a Polish brand belonging to the OTCF company specializing in the creation, production and sale of high-class sports clothing and accessories. We believe that physical activity, a healthy lifestyle and sports attitudes serve people and society. Our mission is to inspire people to start their adventure with sport and make it a part of their everyday life.
The hallmark of 4F is the combination of quality, technology, fashionable materials and modern design. All brand products are designed by a specialized team based on the latest trends and in line with the expectations of consumers.
We promote a healthy lifestyle, we are a partner and organizer of sports events. We work closely with Olympic Committees and Sports Associations, we actively support individual athletes in achieving their goals. The cooperation of 4F and the Polish Olympic Committee has been ongoing since 2008, and currently includes 6 committees – Polish, Croatian, Latvian, Serbian, Macedonian and Greek. The 4F brand became the main sponsor of the Four Hills Tournament and the title sponsor of the races: 4F Praski Half Marathon and 4F Praska Five.
OTCF has its own showrooms in Europe (Latvia, Lithuania, Romania, the Czech Republic, Slovakia). Products bearing the 4F logo are present throughout Europe through the distribution network (in Intersport, Sport 2000 stores). In 2018, the first 4F stores were opened in Tokyo and Yokohama.
OTCF in its portfolio, apart from 4F, also has the sports brand Outhorn, as well as multi-brand sports stores 4Faces. incl. tennis player Łukasz Kubot and ski jumper Maciej Kot.
Opening hours
Monday-Friday: 9:00-21:00
Saturday: 9:00-21:00
No-trade Sunday: 10:00-20:00